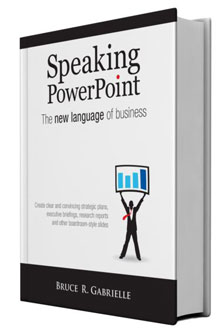 There are two basic approaches to designing PowerPoint slides these days.
1. The traditional approach produces the type of slides we've all grown accustomed to…and bored by.
This approach has its own set of rules. It emphasizes clarity and simplicity. It recommends limiting the amount of text on a slide (e.g., no more than 5 lines of 5 words each). It counsels against using animations and fancy fonts.
2. The newer approach creates a most artistic, visually appealing set of slides.
Its rules are simpler. Use images with a few words. Tell stories.
Both approaches to designing PowerPoint Slides have their merits. But a book I recommend (and wrote the foreword for) — Speaking PowerPoint: The New Language of Business — makes me question both approaches.
Bruce Gabrielle, the author of Speaking PowerPoint, distinguishes — rightly and wisely, in my opinion — between two different types of presentations:
BallroomBallroom presentations are given at conferences and to general audiences by keynote speakers or at breakout sessions. The audiences may (or may not) be invested in what the speaker is addressing. They are easily distracted. They generally do not have an in-depth knowledge of the topic being addressed, nor do they want a detailed, in-depth presentation.

The audiences are at a distance from the slides. They have trouble reading text and most graphics (charts and the like).

The rules recommended by both the traditional and the newer approach apply, it seems, to ballroom presentations.

BoardroomBoardroom presentations are for business meetings, where attendees do't expect to be entertained. They don't want to be bored or confused, mind you, but they want to be informed. They expect details, data, and in-depth analysis. They dislike fluff.

The audiences are up close. They can see the screen. And, often, they have printed handouts to read. (They may have received and reviewed the "deck" in advance.)

Boardroom-style PowerPoint decks, according to Bruce, have several uses. They can be used as 1) a stand-alone reading deck that is circulated, almost like a white paper, 2) a discussion deck, to spur a conversation among decision-makers, or 3) a briefing deck.
The slides used for a boardroom presentation — which includes most workplace presentations — require more detail, including text and statistical data. They are, necessarily, complex.
The PowerPoint slides used in business today — the most common type of presentation — require a new set of rules, different from those proposed by both the traditional and the newer approach.
Bruce proposes his own rules, which I find very helpful. (They're too sophisticated for me to go into here.)
So let me ask you. Do you buy into the distinction? Does it make sense to you? What do you find works?
(By the way, I do not receive any compensation for recommending Bruce's book.)